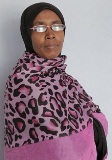 Johora Mohamed Abdi

County Executive Committee Member: Agriculture,Irrigation,Livestock,Fisheries And Veterinary Services

Johora worked as a teacher for nineteen years; sixteen years as a head teacher and three years as a teacher in Mandera East Sub-county. She worked for four years in Machakos County as a District Human Resource Officer.
She holds a Bachelor of Education Degree.
For the last twenty two years (22) she has struggled to promote the Girl Child Education. With good working relationship with the entire community in general, she has been able to transform the schools she was heading.
She was also actively involved in other community development activities including Women for Peace and Development (WFPD) now called HAWENKA (Horn of Africa Women Network Kenya Agency).