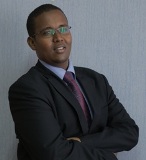 Abdiaziz Shiekh Maad
County Executive Committee Member; Trade, Industrialization And Cooperative Development.

He holds a Masters degree in Business Administration (MBA) from the University of Nairobi and a Bachelors degree in Public Administration and Human Resource Management from Islamic University of Uganda.
He worked for Mercy Corps, Arid Lands Development Focus (ALDEF) and Rural Agency for Community Development (RACIDA) serving at various capacities.  Until his appointment, he was the Human Resource Manager for African Development Solutions (ADESO) Somalia.
He has extensive experience in institutional policy development, organizational capacity building, strategic planning and operations management.