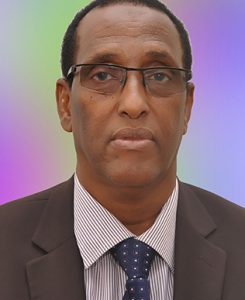 Ahmed Sheikh Mohamed
Roads, Transport & Public Works
Mr Ahmed S. Mohammed is an International peace builder with 15 years of experience. He has worked regionally along the Kenya-Somalia and Ethiopian Border regions. Recently he worked in Darfur region of North Sudan.
While in Sudan, he was the acting head of field mission and coordinator of peace building program for American Refugee Committee (October 2012-March 2013). He then joined the Peace II programme as Program Coordinator in April 2009. He also headed Tegla Loroupe peace foundation and has also held the position of Program Coordinator of a local NGO that deals with conflict resolution. He has worked for Islamic African Relief Agency (IARA) and also worked for  Kenya's Ministry of Health in the curative and preventive services.
He holds a Masters Degree in Peace and Reconciliation. He is currently undergoing another Masters degree in Peace Research studies in Coventry University-United Kingdom.