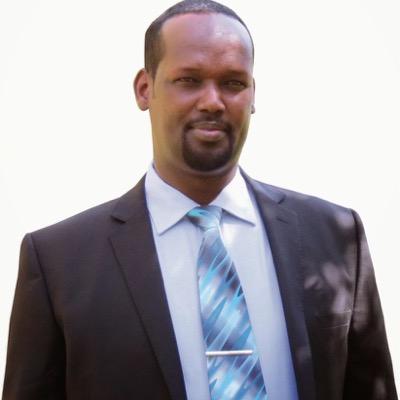 H.E Governor, Capt. Ali Ibrahim Roba
phone: +254 046 210 4000
E-mail: mailto:aliroba@madera.go.ke
Captain Ali Ibrahim Roba is the Governor of Mandera County in north-eastern Kenya. He was re-elected as governor for a second and final term on August 8,2018. His first term as governor was from March 4, 2013. Born in Rhamu town in Mandera County on the 15th of March 1974, Roba is married and a loving father of 9 children.
As a politician he has survived multiple attempts on his life by dreaded Al- Shabab terror gangs that ambushed his convoys in the course of his work as governor leaving several of his bodyguards dead.
A believer in transformative leadership he has championed several life changing projects among them significant investments in health services that resulted inreducing maternal mortatlity rates, improved road networks in rural areas and supply of clean water to communities.
He is committed to supporting programmes that will go along way in countering violent extremism and promote emancipation of youth and women.
He studied at the University of Nairobi for both his undergraduate and post graduate degrees specializing in marketing and strategic management respectively. Among the many colleges he attended for various qualifications is Kenya Utalii College, Delta Qualiflight School of Aviation in Fort Worth Texas, Kenya School of Flying among others.
Captain Roba is a pilot with an Airline Transport Pilot License (ATPL). He is an instructor and Examiner. He is a Kenya Civil Aviation Authority Approved Instrument Rating Examiner, A Training and Check pilot as well as Ground Instructor of various aviation related subjects.
He has worked for Multinational Company called DAC Aviation International between 2002 and 2012 and has grown through the ranks starting as a co-pilot in 2002 to the position of the Director of Flight Operations (DFO) in charge of the core business of the company in over nine countries.
Since the beginning of 2008 when he was appointed to the position of the Chief Pilot, he has contributed exceptionally to the overall compliance levels of DAC Aviation (EA) Ltd by playing instrumental roles in the achievement of an 'A' systems and operational audit rating by DAC Aviation International. DAC specializes in turnkey contracts in the Aviation industry specially in the area of Humanitarian Relief operations. Their key clients include WFP, EUROPEAN UNION, ICRC, TULLOW OIL, SHELL INTERNATIONAL and PETROL ENERGY INTERNATIONAL among others.
He also played a major role in re-structuring of flight operations department and enhancing the efficiency of operational control functions to enviable levels within the general aviation industry in Kenya.
Capt. Roba has over ten years of extensive management training, and over 13 years of work experience as a senior manager.
HE Capt Roba is the Governor of Mandera County Government since the 4th of March 2013.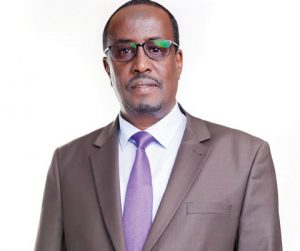 H.E. Mohamed Ahmed Arai- Mandera County Deputy   Governor
 phone:    +254 046 210 4000
 E-mail:    mailto:arai@madera.go.ke
H.E. Mohamed Arai joined Governor Ali Ibrahim Roba as a running mate during the 2017 General   Election. Mr. Arai is an experienced administrator and humanitarian services expert. He brings on   board a wealth of hands in humanitarian work and public administration earned while working with  Nomadic communities in partnership with donors.
"My vision is an all-inclusive Mandera County that is peaceful and prosperous capable of efficiently and effectively delivering services to the people," says Arai. "I derive motivation from urge to relentlessly give service to my community. Mandera is bound to be at its best with competent leadership."
Arai holds an MBA in NGO management from Kampala International University, and a bachelors degree in education from Kenyatta University. The former Town Clerk of the defunct Mandera Town Council, Arai also served as programme director, Nomadic Assistance for Peace and Development (NAPAD). Born in Koromey in Burwaqo location of Mandera central division of Mandera East sub-county, his competencies continue to add value in program monitoring and evaluation, proposal and report Writing, organization development and financial control systems. His experience in administrative work help with Staff recruitment and appraisal, project management, design and implementation, monitoring and evaluation of the ambitious.
"Together with H.E. Governor Ali Roba we want to leave a legacy of transformative leadership."
The Delivery Unit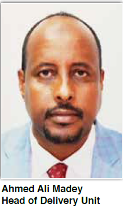 The Department of Delivery Unit was formed by H.E, the Governor through his executive powers and wisdom in his second term in office in August 2018. The purpose is to track delivery of services of Mandera County Government by working collaboratively with all departments to fast-track the implementation of key/ high priority projects and all other government services. One of the mandates of the Delivery Unit is to provide monthly/quarterly/ annual reports on programs & services and their value for money. The unit keeps the Governor informed on timely and regular basis on progress of county plans and programs.The Unit independently evaluates progress and reports results to the Governor. Some of the other functions of the Governor's Delivery Unit include acting as a watchdog and assuring quality while giving advisory services where necessary. The Delivery unit acts as the eyes and ears of the governor. We carry out internal audit covering performance appraisal rather than finances. We emphasize on non-financial reports and timely implementation of projects and plans. The Delivery unit appraises plans and reports formulated by the Economic Planning Department. We also undertake independent evaluation, verify, investigate and serve as a "response unit" to avoid risks.
LEADERSHIP AND STAFFING
The delivery unit is directly under the Governor office and is housed in the same compound of H.E, the Governor. His Excellency, Governor Ali Ibrahim Roba, through his wisdom appointed a 7-member Delivery Unit, headed by Mr. Ahmed Ali Madey, Deputized by Mr. Hassan Hussein Mohamed, 2 Assistant Deputies, Mrs. Zahara Bashir and Mr. Dakane Mohamed and the following 3 coordinators;
Mr. Mustafa Mohamed Adan
M/s Mumtaz Bishar Musa
Mr. Abdullahi Hussein Kassim
The Delivery Unit by design is lean but has highly skilled personnel who are results-focused and will receive continuous training to sharpen their capacity to deliver results.
The Delivery Unit is in the process of developing a County M&E Framework and formation of various committees in collaboration with relevant stakeholders. When H.E the Governor's Delivery Unit is successful, there will be visible big and fast results in the prioritized sectors, comprehensive progress tracking of the key priorities and developed performance culture of efficient delivery of services in all the ministries/departments
2.  Efficiency Monitoring Unit
The Department of Efficiency Monitoring Unit (EMU) was formed by H.E, the Governor through his executive powers and wisdom in his second term in office in August 2018. The purpose of establishing EMU is to:
Work with other departments to fast-track implementation of high priority development
Collect and collate data, analyzing and using information to inform the progress and impact of interventions.
Keeping the Governor informed on timely and regular basis on progress of county plans and programs
Monitor weekly reporting template on performance of flagship projects and monthly Governor's Dashboard to ensure the Governor is fully informed of progress and challenges including early warning system to identify risk and bottlenecks.
Provide monthly, quarterly and Annual Reports on projects and programs of to achieve value for money
Provide mentoring, coaching services for project managers to ensure projects and services are evaluated for impact created.
Ensure programs are implemented as per budget, CIDP and Annual Work plan.
Establish framework for progressively achieving a County Government culture of data-driven decision-making
Review planning process and assist county departments to know step-by-step what needs to be done to deliver results on high priority programs
Achievements.
Training of staff on M&E
Induction of staff on County Implementation Monitoring and Evaluation Systems and Human Resource Management
Improved service delivery through close supervision of projects and programs as well as staff presence in their duty stations
Timely submission of statutory reports by ministries
Formulation of County M&E framework
Assisted Economic Planning in the formulation of County Annual Progress Report (C_APR)
Assisted economic planning in the formulation of Mandera County Indicator handbook
Developed monitoring tools for ministries to track progress of projects, programs and service delivery
Developed internal report that led to the improvement of revenue streams
Developed anti corruption mechanisms strategies in the County
Staffing and Leadership
The Efficiency Monitoring  Unit (EMU) is directly under the Governor office and shares the compound with MANDAWASCO.  His Excellency, Governor Ali Ibrahim Roba, through his wisdom appointed a 7-member EMU, headed by Mr.Okash A. Adan, Deputized by Mr. Mohamud O. Obsiye, with the following 5 coordinators;
Mr. Ibrahim Maalim Alio
Mr. Mohamed Ibrahim Ali
Mr. Feisal Ahmed Mohamed
Miss. Amran Mohamed Abdulla
Miss. Farhiya Kassim Kerow
3. Advisors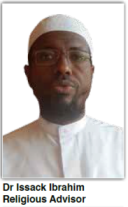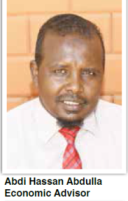 4. The Governor's Press Unit
The Governor's press service (GPS) department is responsible for planning and covering the governor's functions and the county government's activities in electronic and print for dissemination to the media and public. It also prepares supplements, documentaries, press releases/media features. Additionally, GPS builds and mainstays a database of news/information on the governor and other ministries besides coordinating the press-related issues in all the ministries.
Established in 2013, GPS is headed by a director.