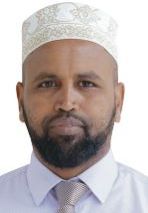 Issadin Adawa Edow
Issadin Adawa was born on 15 of March in 1982. He is married and possess a Kenyan Nationality. He speaks fluent English, Kiswahili and Somali languages.
He is an experienced career civil servant with over 15 years of experience. His career with UK Civil Services started in 2003 starting with National Health Service in England, Ministry of Justice and Local Government. In 2010 he was promoted and seconded to Ministry of Justice as Operations Manager
Issadin graduated from the University of Northampton with a Joint Honours in Sociology with Politics, and he is currently pursuing an MSc in Integrated Urbanism and Sustainable Development at the University of Northampton.
He is a nationally accredited Race Equality and Diversity trainer. Issadin had previously undertaken more than five community research projects in collaboration with University of Central Lancashire (UCLAN), Health Delivery Unit with National Health Services and De Monfort University Leicestershire. He was the founder and Managing Director of a Social enterprise organisation called the diversity centre based in Northampton.
He currently serves as CECM for Youth, Gender and Social Service in Mandera County.