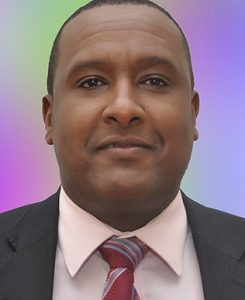 Izzudin Abdullahi Adan
Education, Sports & Culture
(12 Years)
Izzudin Abdullahi is currently the CECM for Education, Sports & Culture with over 12 years of experience in Audit, Strategy Development, Finance Process Consolidation and experience in implementing Oracle Financial Solutions. He graduated from the University of Wisconsin, Madison with a Bachelors of Business Administration Degree majoring in Accounts & Information Systems.
He started his professional career with PricewaterhouseCoopers LLP USA Advisory Practice in New York City NY, USA where he worked with clients in internal audit, optimization of company's general ledger and finance processes, and implementation of the Sarbanes Oxley Act (404) as required by the US Securities and Exchange Commission (SEC), and other regulatory bodies. Amongst the clients he served with PwC include the Bank of New York Mellon, Citibank North America, Goldman Sachs, PepsiCo North America, McDonalds Corporation, MasterCard International, SAP, The United Nations Office in New York amongst others.
After he left the PwC Advisory Practice, Izzudin worked jointly with the Ministry of Defense, Rwanda and the Ministry of Infrastructure, Rwanda towards the development, financing and operation of the 9.50 MW Rukarara hydro power plant. Izzudin has also co-authored a thought leadership publication, "Audit Forensics & Data Integration Tools, Finding the Right Balance" which was published by PricewaterhouseCoopers LLP and adopted as a learning toolkit for new Audit Professionals.
As part of his community activities, Izzudin served as a College Tutor for Calculus I, Macroeconomics and Microeconomics at the Madison Area Technical College Alternative Learning Division. He was also selected to represent the State of Wisconsin at the Center for International Business and Research National Case Competition held at the Ohio State University in 2005. In 2012-2013, Izzudin successfully lobbied the Turkey Africa Association to provide 102 scholarships for students to study in Turkey from the Northern and Upper Eastern Region.
36 of these students are from Mandera, and are currently returning to Kenya after the successful completion of their studies. Hence, Izzudin is dedicated towards reducing the educational achievement gaps within Mandera County, and will be working jointly with various stakeholders within the County towards this end.